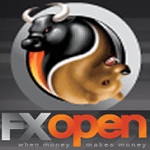 Background of Forex Broker:
FXOpen was started in 2005 in Cairo, Egypt. FXOpen has the distinct honor of being the first MetaTrader 4 broker to offer an ECN environment as well. Because of this, FXOpen has been recognized as a leader in the Forex world.
Advantages of using this broker:
Living up to its name, FXOpen is a brokerage that is open to all. The micro account can be opened with as little as $1, making trading available and affordable to all peoples the world over. Because of this low minimum deposit, FXOpen has clients from all corners of the globe.
FXOpen offers up to 500:1 leverage, allowing a trader to maximize returns with such a generous amount of available leverage.
Deposits and Withdraws:
FXOpen accepts credit card deposit and withdraw requests. Wire transfers and several of the world's leading payment transfer system. It should be noted that PayPal is not one of them however.
Customer Service:
FXOpen has various kinds of customer service. You will notice this right away, as there is an exhaustive amount of education available on their site.
In the more traditional customer service sense, FXOpen shines as it has live chat options, which is manned 24/7.
Regulated by:
FXOpen is an established broker in the country of Mauritius, and as such is regulated by the Financial Services Commission of the Republic of Mauritius.
Conclusion:
FXOpen is an extremely flexible broker that allows everyone the chance to trade. With accounts opening with as little as $1, everyone can use them. Using that small deposit ability, FXOpen is a great broker because it allows people to "try them out" before committing a serious amount of capital. FXOpen also allows the trading of spot gold and metals, as well as generous fixed spreads on currency pairs from 2 pips. It should be noted that due to recent regulations.